These events are arranged by Connect and it's associates and aimed at Mortgage Intermediaries.
Aldermore – Lender Spotlight Webinar (15th November at 12.30pm)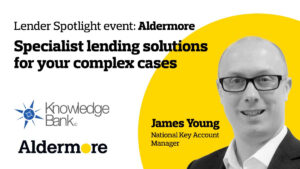 We started with a simple mission… to help people realise their dreams and ambitions.
We support all types of people. First time buyers with low deposits, re-mortgagers looking to get a new deal and people with less than perfect credit. We're there for the self-employed too, those who feel like the mortgage market has turned its back on them.
We're also committed to helping your buy to let clients. Whether they're a first-time landlord or looking to expand their property portfolio – we're ready to back them all the way. We're the ones who always try to find a solution.
Join this event to find out more about:
The recent changes to our mortgage range and criteria
New Limited Edition buy to Let products
How our specialist approach to lending helps the self employed
Changes to our residential and specialist underwriting team
Register for FREE here.
To view all future events being held by Knowledge Bank or those we are participating in, please click here.
Attendees who attend the full session will be sent learning certificates which can be used for CPD.
We encourage brokers to ask questions during the event, but if you would like to provide us with any questions you have in advance, please supply when registering. We will do our best to get through as many as possible during the live session.
Related Events