EPC rating
Many advisers will know the 'Minimum Energy Performance of Buildings Bill' currently passing through parliament. This is a Bill to make provision to increase the minimum energy performance of buildings and sets out that all domestic properties must have an EPC rating of at least C by 2035.
The Bill states that these measures are to be implemented where it is deemed 'Practical, Cost-Effective, and Affordable', and it will be for the Secretary of State to define this meaning.
Specific aims to achieve this have been set out and include:
For privately rented properties (BTL), all new tenancies must have an EPC rating of at least C by December 2025
All existing BTL tenancies must have an EPC rating of at least C by December 2028.
Social landlords (housing associations and local authorities) must ensure a significant proportion of their property is at least EPC band C by 2035
All mortgage lenders must ensure an average EPC rating of at least C across their domestic loans by 31st December 2030
Non-mortgaged owner-occupied property to have an EPC rating of at least C by December 2035.
All new homes built from 1st January 2025 are zero carbon ready
Rented commercial (non-domestic) property must be EPC band B by 2030 unless not technically feasible.
The Advantages of New Builds
Most new build property is already being built with a rating of A or B, so the next milestone in the timeline will be for private BTL landlords as soon as 2025. So, what should you be advising your BTL clients?
Various publications estimate between 50% and 70% of all landlord properties have an EPC rating of D or below. A significant proportion of landlords may need guidance and perhaps also need additional funds to complete the required work. By understanding the new legislation, you can help your landlords consider the implications for their portfolios and plan future financial requirements.
The starting point is establishing the current EPC rating of the properties in the landlord's portfolio. If you are not already doing it, it is good practice to start gathering the EPC ratings of each property on your fact find, which can kick-start the conversation.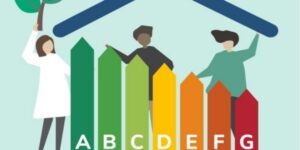 Understanding The New Legislation
If the landlord is unaware of the property's rating, this can be checked by looking up each property's energy performance certificate on the Government's website: https://www.gov.uk/find-energy-certificate.
As well as understanding the current rating, the more recent certificates also contain guidance on the works and anticipated costs of improving the property's rating. For properties with an older certificate, the landlord may wish to consider instructing a new EPC certificate to get additional guidance.
Advisers must start to factor this into the advice with immediate effect. The Society of Mortgage Professionals encourages and supports advisers to build their market awareness and knowledge to ensure that their customers receive excellent professional advice beyond just recommending the cheapest product.
For example, if your client needs a capital raise to do the work to meet the regulations in 2025 and you recommend a 5-year fixed rate today, your customer could be locked into a mortgage product when funds are needed.
With many lenders, particularly those in the specialist BTL market, not offering further advances or allowing second charges, this could pose a serious problem and result in a complaint.
Green Mortgages
With the green initiative being a hot topic, many lenders have released green mortgages with benefits such as lower interest rates for higher-rated properties or cash back for making improvements. It is anticipated that more products, perhaps with more significant innovation, will enter the market over the coming period.
Advisers should invest time in understanding these products and the lender's criteria around extra borrowing.  The devil will, of course, be in the detail. Some exceptions will likely apply to particular property types, and there will be affordability-related spending caps.
It is worth suggesting that your client should be wary of immediately proceeding with costly work to find that different parameters apply from those originally anticipated when the Bill is passed.
However, leaving it to the last minute could also cause problems with the cost of materials or the availability of tradespeople. Having conversations as early as possible and providing guidance is an area in which professional advisers can really add value to their customers.