United Trust Bank (UTB) has committed to financing the £5 million revitalisation of an urban brownfield location, spearheaded by the accomplished local property developer Factory Estates. The revitalisation project, named The Gateway, is situated in Cambridge and features a 5-story structure housing 13 modern apartments and commercial spaces on the ground floor.
UTB's funding injection is set to breathe new life into this city centre area, promoting urban renewal and enhancing the overall appeal of The Gateway. This strategic collaboration between UTB and Factory Estates marks a significant milestone in the ongoing efforts to transform and uplift urban spaces, providing both residential and commercial amenities for the community.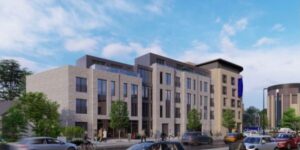 The infusion of £5 million from UTB underscores their commitment to supporting sustainable urban development projects that contribute to the growth and vibrancy of local communities.
Development loan | Factory Estates
While Factory Estates is a recent addition to UTB's clientele, the specialised lender is extending a £3.46 million facility, representing 70% of the Loan-to-Gross Development Value (LTGDV). This funding is made possible through the Housing Accelerator Fund (HAF), an innovative public-private finance collaboration initiated by Homes England and UTB earlier this year.
The primary aim of HAF is to enhance financial support for small and medium-sized housebuilders and developers engaged in building activities. Gareth Taylor from Excellion Capital, a real estate finance specialist, presented the proposal to UTB's Philip Kirkwood.
Despite being new to the bank, Factory Estates caught UTB's attention due to their commendable track record in successful developments in the Salford and Manchester areas. Impressed by the house builder's achievements, UTB promptly approved the £3.46 million facility. This demonstrates UTB's commitment to supporting the growth and projects of promising developers and builders in the housing sector.
Development loan | Pre-construction sale
In addition to successfully obtaining attractively priced financing through heightened gearing, the borrowers experienced the added advantage of a rapid and uncomplicated disbursement of funds. The initial withdrawal of funds was accomplished within a mere 23 working days from the approval of credit.
Factory Estates has already sealed three pre-construction sales at The Gateway and anticipates further successes in securing additional sales as the construction progresses. This positive trend underscores the promising outlook for Factory Estates' ventures at The Gateway.
Development loan | The quotes
Chris Bowman, Director of Factory Estates, commented: "Philip and the Team at UTB have delivered everything they promised quickly and efficiently. Being an auction purchase, we were working to tight timescales anyway, and we inevitably came across a few additional challenges with anomalies on the legal side. UTB came in from a standing start, quickly recognised what was required, and took a pragmatic view, which enabled us to secure the funding without delay.
I'm sure many other lenders would have found them to be much more of an issue. In fact, thanks to UTB and Gareth at Excellion, banking has been the quickest and smoothest element of this project so far, and that's not something I can say very often. The Housing Accelerator Fund has really delivered what it says on the tin!"
Gareth Taylor of Excellion Capital commented: "This project was attractive to Factory Estates as it already had plans in place, and the team could get moving on it quickly. Therefore, I wanted to introduce a lender that could meet their need for speed, and I'm happy to say that from my perspective, UTB delivered on all counts.
As well as agreeing to a higher geared, 70% LTGDV facility, the whole team at UTB worked quickly to provide a swift drawdown and ensure when the time came, my client had the money available when they needed it."
Philip Kirkwood, director – of property development at United Trust Bank, commented: "I'm delighted that we've been able to support this Factory Estates development with a higher geared facility through our innovative Housing Accelerator Fund. Factory Estates have established themselves as a successful regional developer and housebuilder, creating high-quality new homes in areas with an identifiable need, and it has been a pleasure working with Chris Bowman to get this facility agreed upon and drawn in just a few short weeks.
We worked closely with the Factory Estates team and their excellent group of professionals to ensure the funding was in place and enabled work to commence quickly.
"This scheme is a great example of how specialist development lenders like UTB partnering with public agencies like Homes England can structure and deliver innovative funding solutions which give SME housebuilders the support they need to continue building. I look forward to finding many more Factory Estates developments in the future."
We've come to the end of our publication Credits: Business Money  – Development Loan | UTB 70% LTGDV Funding For £5m Development. Until next time, stay Connect!