These events are arranged by Connect and it's associates and aimed at Mortgage Intermediaries.
Tandem | Part 2 | Navigating Complex Property Finance
13 November @ 2:30 pm

-

4:30 pm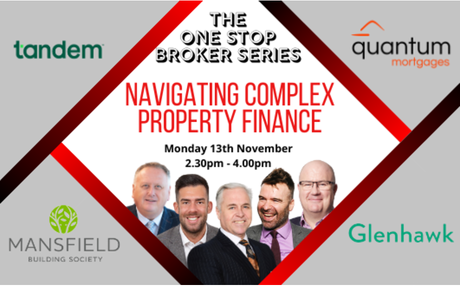 Join us for the One Stop Broker Series led by mortgage expert Roger Morris, a comprehensive exploration of all things Specialist in the mortgage world. Whether you're interested in Residential, Buy to Let, Bridging Loans, or Development Finance, this 3-part series has you covered. Gain insights from top Industry Leaders including Jamie Pritchard (Glenhawk), Richard Angell (Tandem), Spencer Gale (Quantum), and Tom Denman-Molloy (Mansfield Building Society), as they unravel the complexities of placing deals in today's market. Your host, the Leading Specialist Lending Expert, Roger Morris, will guide you through the sessions.
Part 2 | Navigating Complex Property Finance
Embark on a journey through the intricate landscape of complex property finance in Part 2. Industry leaders, including Jamie Pritchard and Richard Angell, break down the intricacies of Buy to Let, Residential, and Bridging Loans. Equip yourself with the know-how to tackle complex deals, from property portfolios to development projects, and maximise client satisfaction.
Related Events