These events are arranged by Connect and it's associates and aimed at Mortgage Intermediaries.
Tandem | Part 1 | A Brokers Guide to Specialist Lenders
16 October @ 2:30 pm

-

4:00 pm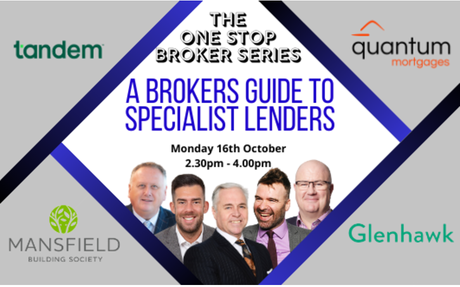 Join us for the One Stop Broker Series led by mortgage expert Roger Morris, a comprehensive exploration of all things Specialist in the mortgage world. Whether you're interested in Residential, Buy to Let, Bridging Loans, or Development Finance, this 3-part series has you covered. Gain insights from top Industry Leaders including Jamie Pritchard (Glenhawk), Richard Angell (Tandem), Spencer Gale (Quantum), and Tom Denman-Molloy (Mansfield Building Society), as they unravel the complexities of placing deals in today's market. Your host, the Leading Specialist Lending Expert, Roger Morris, will guide you through the sessions.
Part 1 | A Brokers Guide to Specialist Lenders
Unlock the mysteries of working with specialist lenders in the first instalment of our One Stop Broker Series. Guided by mortgage expert Roger Morris, delve into a comprehensive overview of specialist lenders and how they differ from traditional lenders. Learn how to identify the right lender for various property finance scenarios and leverage their unique offerings for your clients' benefit.
Related Events