These events are arranged by Connect and it's associates and aimed at Mortgage Intermediaries.
Lender Spotlight Webinar – Mercantile Trust and Central Trust (16th February at 12.30pm)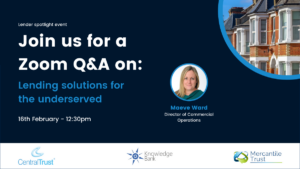 Wednesday 16th February at 12.30pm
Register for FREE here.
Maeve Ward, Director of Commercial Operations at Central Trust & Mercantile Trust will be joining us, plus there will be a LIVE Q&A session.
Both Central Trust and Mercantile Trust specialise in providing finance for those customers under-served by traditional mainstream and specialist lenders. Such borrowers include those with heavier forms of adverse credit (including secured arrears, IVA's and DMP's), the self-employed and contractors, plus those who struggle with affordability.
Both lenders take a common sense, manual underwriting approach using their 30+ years' experience in helping such customers and enable you to convert more enquiries!
In this webinar, you will find out the options each lender provides across first charges, second charges, Consumer BTL, bridging and commercial finance and you'll be able to take part in a live Q&A session which will give you the opportunity to place cases or scenarios directly with them!
To view all future events being held by Knowledge Bank or those we are participating in, please click here.
Attendees who attend the full session will be sent learning certificates which can be used for CPD.
We encourage brokers to ask questions during the event, but if you would like to provide us with any questions you have in advance, please supply when registering. We will do our best to get through as many as possible during the live session.
This event is FREE to attend.
Related Events