These events are arranged by Connect and it's associates and aimed at Mortgage Intermediaries.
Knowledge Bank – Question of Knowledge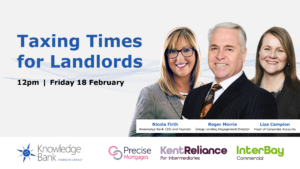 Friday 18th February 2022
Register for FREE here.
Being a landlord can bring lots of challenges. Some are more physical and less frequent, like replacing white goods or that pesky roof tile that just won't stay in place – but one challenge that is always present is the taxation of income and the complexities behind it.
For our next Question of Knowledge, Nicola, Roger, and Liza will be focussing on the taxation of income that is brought in from any rental properties. Be them singular, portfolio, or seasonal, they all need to be properly assessed and we are going to help raise awareness of how!
We are delighted to be joined by John McCaffery, Tax Partner at Alexander & Co, who will be discussing this with us and answering your questions!
To view all future events being held by Knowledge Bank or those we are participating in, please click here.
Attendees who attend the full session will be sent learning certificates which can be used for CPD.
We encourage brokers to ask questions during the event, but if you would like to provide us with any questions you have in advance, please supply when registering below. We will do our best to get through as many as possible during the live session.
Related Events