These events are arranged by Connect and it's associates and aimed at Mortgage Intermediaries.
Knowledge Bank – **BOOK NOW** Criteria Clinic LIVE Webinar (covering Deposits, Affordability, Shared Ownership, Help to Buy & JBSP)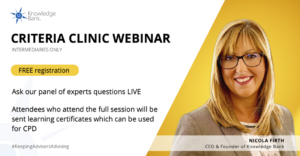 Monday 24th January at 10am
Register for FREE here.
First time buyers come from all walks of life, as do their situations which can change how lenders view them!
Knowledge Bank's next criteria clinic will be looking into First Time Buyers, from their types of deposit to affordability, and schemes available such as shared ownership, help to buy and joint borrower sole proprietor!
Joining Nicola to discuss this, answer your questions, and help you place cases LIVE are:
Chris Kirby – Key Account Manager, Kensington Mortgages
Ralph Punter – Business Development Manager, Teachers for Intermediaries
Emma Evans – Intermediary Sales Manager, Newbury Building Society
Paula Priest – National Account Manager, Foundation Home Loans
Simon O'Donnell – Business Development Manager, Saffron for intermediaries
Register for FREE here.
To view all future events being held by Knowledge Bank or those we are participating in, please click here.
Attendees who attend the full session will be sent learning certificates which can be used for CPD.
They encourage brokers to ask questions during the event, but if you would like to provide Knowledge Bank with any questions you have in advance, please supply when registering below. They will do their best to get through as many as possible during the live session.
Related Events