These events are arranged by Connect and it's associates and aimed at Mortgage Intermediaries.
**BOOK NOW** Non-Standard Construction Criteria Clinic LIVE Webinar – Monday 21st February at 10am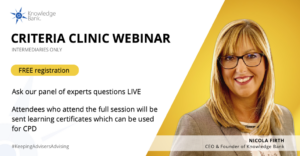 Monday 21st February at 10am
Register for FREE here.
Construction types can be the difference between a lender saying 'yes' or 'no' to providing a mortgage on a property.
With the landscape on existing types changing so frequently, and the various new advancements in construction technology, are you keeping up with which lenders will accept them?
Joining Nicola to discuss this, answer your questions, and help you place cases LIVE are:
Jean Errington, Business Development Manager – Harpenden Building Society
Phil Lawford, Business Development Manager – Saffron for Intermediaries
Anna Squires, Business Development Manager – Mansfield BS
James Hodgskin, Broker Relationship Manager, Mortgages – United Trust Bank
To view all future events being held by Knowledge Bank or those we are participating in, please click here.
Attendees who attend the full session will be sent learning certificates which can be used for CPD.
We encourage brokers to ask questions during the event, but if you would like to provide us with any questions you have in advance, please supply when registering below. We will do our best to get through as many as possible during the live session.
Related Events