These events are arranged by Connect and it's associates and aimed at Mortgage Intermediaries.
**BOOK NOW** Auction Bridging Finance Criteria Clinic LIVE Webinar – Monday 7th March at 10am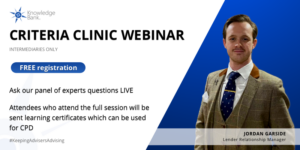 Monday 7th March at 10am
Register for FREE here.
Using bridging loans to gather the relevant funds for a refurb is becoming more popular, especially when it comes to investors purchasing properties at auction, regardless of their condition!
Are you confident with advising in this area? Do you know the best way to utilise a bridging loan in this way?
Join Knowledge Bank on their next Criteria Clinic where they will be discussing just that!
Joining Jordan to discuss this, answer your questions, and help you place cases LIVE are:
MT Finance
Roma Finance – Steve Smith, Sales Director
Glenhawk – Jamie Pritchard, Sales Director
United Trust Bank – Owen Bentley, Head of Sales – Bridging
To view all future events being held by Knowledge Bank or those they are participating in, please click here.
Attendees who attend the full session will be sent learning certificates which can be used for CPD.
They encourage brokers to ask questions during the event, but if you would like to provide us with any questions you have in advance, please supply when registering below. They will do their best to get through as many as possible during the live session.
Related Events