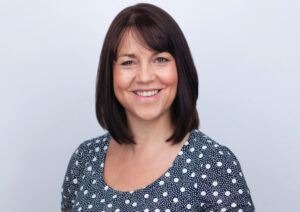 As I write this, I have recently attended several industry events. Many people in the mortgage industry seem to be keen to be out networking again despite the still present potential risks, myself included!
It would seem that buy-to-let (BTL) investors are feeling the same, with a packed two days at the consumer-facing property investor show a few weeks ago.
I bring this up as this was the first chance I have had to be in front of BTL investors directly since the pandemic, and I was curious to gauge who was attending, what types of investors and their levels of experience.
I was presently surprised at how busy it was, not just who wanted to be out and about again, but the thousands of property investors who turned up with a thirst for knowledge on BTL property and finance.
There was a real mix of investors, including people with large existing portfolios, one with over 100 existing properties, and developers looking for development and refurbishment funding.
One particular category of investor that was in abundance was the non-portfolio investor of one to three properties. However, what was common among them was that they were there to learn as they wanted to grow their portfolios.
Speaking to some of these investors reminded me of some of the conversations that I used to have when I was actively advising and helping clients build their portfolios.
Assisting investors to think through their investment strategy is key to getting them the right finance for each property and ensuring you have a client for life as their adviser.
Do they want to invest for income today or in retirement, do they want to invest for capital growth, what is their tax position and how may this change, how many properties do they want to buy and over what time frame? Asking these and other strategic questions is vital to be able to recommend the right solutions.
For example, many property investors like to create value in their existing portfolio through development and refurbishment. The created value can then be extracted and used as the deposit for the next property.
If you do not understand this as an adviser, you may inadvertently tie your client into a five-year fixed rate with ERCs, with a lender that does not offer further advances or allow second charges. This applies to many of the specialist BTL lenders due to how they are funded, a complaint waiting to happen!
Now is also the time to start coaching your investor clients on green mortgages and the impact of the EPC requirements. From 2025, new tenancies can only be issued on properties that have a rating of A to C. It will apply to all tenancies from 2028.
If you are arranging a five-year fixed rate today, and your client will need to borrow to do the work required on a property not up to standard, you may find you put your client in a financially difficult position.
Hopefully, more lenders will look to introduce some innovation into the BTL market around the EPC requirements. At the moment, we are just looking at a handful of BTL lenders offering some form of product incentive ranging from rate reductions to cashback as below: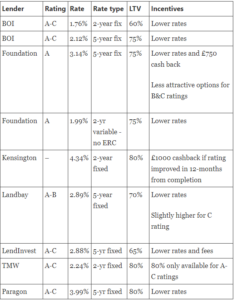 *Details correct as at 25/10/21
As you can see, most lenders offering green mortgages are offering savings against their standard range. For example, Paragon is offering a green product for every standard product at 0.1% lower. Now is the time for all advisers to communicate these new mortgage incentives to their BTL clients to help them prepare for the upcoming regulations.
If you get it right, working with property investors is very rewarding. You get to know your investor clients very well and become an integral part of their business. Plus, there is the bonus of a client building a portfolio who may do a mortgage with you every few months instead of every few years!
Credits: Liz Syms, chief executive, Connect for Intermediaries