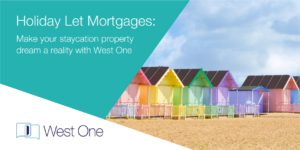 West One are a leading provider of specialist mortgages and property finance, helping homeowners, landlords and property investors achieve their financial goals. Our buy-to-let products provide lending solutions for first time landlords through to professional landlords who may be looking to find a new home for their property portfolio or help it grow further.
Whether applying through personal names or through a limited company, we are committed to providing a quality service to our intermediary partners supported by our comprehensive product range, dedicated team of experts and online application portal.
Our comprehensive range of products are available through our Standard and Specialist Product ranges, which are available exclusively through mortgage intermediaries.
10 Points to discuss with clients looking to finance a holiday let
There are a number of benefits and considerations that your clients will need to be aware of when looking to finance a holiday let. West One have created a handy checklist on areas to discuss with your clients.
Benefits
The cost of furnishing a holiday rental can be deducted from the pre-tax profits.
Self-catering accommodation may be subject to Business Rate property tax, which would allow the investor to claim small business rate relief, instead of paying council tax.
If an investor decides to sell their property, they will be able to claim certain Capital Gains Tax reliefs including Entrepreneur's Relief, Business Asset Rollover Relief and Gift Hold-Over Relief.
Income generated from a holiday rental is classed as 'relevant earnings' which means you can make contributions towards your pension and reduce your income tax bill.
Married couples can divide the profits from a furnished holiday let however they choose, regardless of the ownership split.
There is the potential for higher profit margins as the daily and weekly charges for holiday lets are considerably higher than traditional buy-to-lets.
Considerations
Certain councils have restrictions in place for short-term lets which may impact the ability for the owner to rent the property as a short-term let.
The running costs for a holiday let can be higher, particularly if the management of the property is outsourced to a holiday operator, who will take a fee. It is also worth considering that wear and tear is likely to be higher with multiple occupants coming and going.
Without the security of a tenancy contract that comes with a traditional buy-to-let, holiday lets can be vacant for long periods of time – particularly in low season.
Utility bills and TV packages will need to be covered by the property owner at a holiday rental, while these would normally be covered by the tenant at a traditional buy-to-let.
Purchasing or refinancing a holiday let
At West One, our specialist buy-to-let product range is available to amateur and professional landlords looking to finance complex transactions including Holiday Lets.
Key features of West One Holiday Let mortgages:
We lend to first time landlords with no holiday letting experience.
Available to individuals, limited companies, and expats.
No minimum income.
We can accommodate short term lets and serviced accommodation (Airbnb) which means the property does not have to be in a typical holiday destination.
Holiday lets are assessed on an AST rental basis.
The property must be suitable for standard AST rental.
There must be no restrictive covenants relating to holiday letting (Seasonal restrictions, holiday let usage only).
We wouldn't lend on a holiday let complex or in an area predominantly holiday let property due to resale potential being limited.
Generic information is contained within this article and each individual's tax affairs are different, further advice should be sought from an accountant.